It's almost summer! With the weather getting better outside, maybe it's time to start making a list of weekend projects to complete. While you might not be able to tackle some of the hard, long-term projects -- kitchen remodels, bathroom remodels, deck additions -- you can do some easy improvements that will make your house more appealing and functional. To help put the list together, here are some common weekend summer projects to consider:
#1 Repaint the interior and/or exterior
If your walls are starting to look chipped, cracked or particularly worn down, now is a good time to refresh them with a coat of paint. Look at the local home improvement store for neutral colors that will make your home easier to sell down the road. You can have one accent wall that's brightly colored, but you run the risk of detracting from buyer appeal.
For your exterior, it's probably best to stick with the original color -- unless it's really unappealing. Then go with neutral colors as well. You should never have more than five major colors going on throughout your home interior and exterior. Consult a painter if you need help deciding what best fits into your home color scheme.
#2 Remove debris from gutters
Now that it's nice outside, you should start cleaning out your gutters. They've gathered a lot of debris from the fall and winter -- leaves, branches, dirt, etc. -- so get ahead of any rainfall. If they're near a lot of tree branches, there's a good chance they'll gather more before summer is over. So get up on a ladder, use a rake or your hands, and start cleaning them out immediately. If you don't, the gutters will clog up, which prevents moisture from draining through the downspouts and to the sidewalk. This could lead to potential siding and roof damage. Don't wait!
#3 Power wash and seal the deck
If you have a deck, there's a good chance it was worn down by the snow, ice and wind over the winter. To revitalize it for the spring and summer, remove all of the debris with a power washer. You can use a power washer yourself or hire a professional to do it for $200 to $400. Professionals have the experience to safely handle a power washer, and they can do it quickly too. Then you can reapply the sealer. It will shine anew under the sun and be ready for anything the climate throws at it in the months ahead.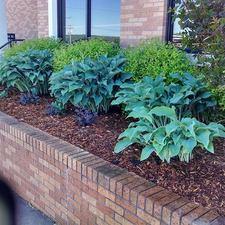 Photo courtesy of CD Lawn Care in Baraga, MI


#4 Mulch garden beds
By applying a new layer of mulch in the summer, you can prevent weed growth and give your plants -- old or new -- some new nutrients. Mulch prevents weeds by keeping out oxygen and light. At the same time, it holds in soil's moisture so that when you water, less evaporates into the air. Be sure to apply only 1-3 inches deep and give trunks or stems 3-5 inches of space so as not to deprive them of oxygen.
You can either invest in organic or inorganic mulch. Organic mulch includes leaves, grass clippings, tree bark pieces or hay/straw. It breaks down over time and adds nutrients to the soil. Inorganic mulch options include rocks, gravel or plastic pieces.
#5 Caulk or weather strip around doors and windows
To keep your home's indoor temperature consistent and prevent any pests from getting in, think about recaulking or weather stripping your doors and windows. There's a chance that, over time, the caulk or original weather stripping around these areas has broken down from inclement weather or repeated use. If you don't do it now, your A/C will turn on more often because air is escaping through leaks around the windows and doors. This is a good preventative measure that pays back in the winter with your heating system too. Recaulking your windows, in particular, also prevents rot and mildew growth.
#6 Clean out the HVAC
Now is a good time to clean out your HVAC system before you start using your central A/C a lot. You need to clean out your A/C unit, including the filter and any components that might have debris or dust buildup. If you have an A/C unit separate from your heating system, then consult your manual for how to clean out the system. This includes parts like the:
● Condenser coil
● Fan motor
● Compressor
● Blower compartments (might need a pro's help)
For those who have an outdoor A/C unit, you need to think about any preventative measures for debris buildup. You don't want to spend hundreds on A/C repair because you didn't perform the proper maintenance.
These are only some of the projects you might consider pursuing on the weekends. If you have other areas of your house that need work -- the kitchen, bathroom, den, bedroom or backyard area, for example -- then tend to those areas. What you focus on depends on what's been hit the hardest over time and how much money you want to spend.
This blog was contributed by HomeAdvisor.